Join the Geomatics Atlantic Conference Committee as we partner with the Licensed Professional Planner Association of Nova Scotia (LPPANS) for a Prenote presentation by  world renowned atmospheric scientist Dr. Katharine Hayhoe who will discuss cross-sectoral approaches to dealing with climate change.
Dr. Katharine Hayhoe is a climate scientist, a professor in the Department of Political Science and the Director of the Climate Science Center at Texas Tech University.
She began her career with a B.Sc. in physics and astronomy from the University of Toronto,  and her research focuses on high-resolution climate projections to evaluate the future impacts of climate change on human society and the natural environment.
After participating in a climate change assessment for the Great Lakes, she recognized the need for high-resolution climate projections to integrate into impact studies in areas ranging from ecosystems to energy. Therefore for her Ph.D., she refocused her research to survey and compare a broad range of the statistical down scaling methods often used to generate these projections: research.
"I don't accept global warming on faith: I crunch the data, I analyze the models, I help engineers and city managers and ecologists quantify the impacts." Katharine Hayhoe
She has published over 125 peer-reviewed articles and served as lead author on key reports for the U.S. Global Change Research Program and the National Academy of Sciences.
Read more about Dr. Katharine Hayhoe including published articles and some of her past presentations at http://katharinehayhoe.com/wp2016/blog/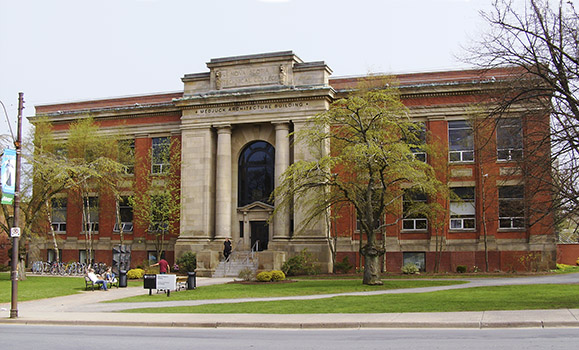 WHAT: Presentation by world renown climate scientist Dr. Katharine Hayhoe that will lead into the Geomatics Atlantic Conference (held November 14th – 15th)
WHEN:  November 2nd at 10 am
WHERE: the Dalhousie School of Architecture and Planning Auditorium (next to the Halifax Central Library)
This a free event, however donations are being accepted on behalf of Feed Nova Scotia to help support their Christmas campaign.
Space is limited so please register for the event to save your seat.
More details about this event and how to register will be available soon and will be added to this page and the GeomaticsAtlanticConferenceWebsite https://geomatics.one/prenote-katharine-hayhoe.html
[Images Sources: KatharineHayhoe.com and Dal.ca]
Related